I started Dresslikeapirate.com in 1998 as an E-bay Business called Hal's Since 2001, selling vintage clothing and housewares, which included lots of Medieval feast gear or Pirate flavored items from my time dating a guy in the SCA, knowing that there was a market. ( I was also a washerwoman at Pleasure Faire back in the 70's. ) What started as a hobby during my time as an Office Manager for a website development company became a full time business when the dot com bubble burst and the company had to close.
With a special needs child getting off the schoolbus in the middle of the afternoon, it was the perfect excuse to build a business from home, and extend to ready made clothing from the vintage line. After receiving the first 75 pirate shirts and selling them out in 3 weeks, the very last shirt going Express Mail, I was told by the post office clerk "Did you know that September 19th is Talk Like A Pirate Day?" Well, don't you know I rushed home, looked it up, found out the Pirate Guys were right down the road in Albany, Oregon, and exclaimed "You guys will be my friends for life!" and named the new venture Dresslikeapirate.com. To this day, the Pirate Guys are my friends, my son has played with Chumbucket's son, and I dressed his wife for the Pirate episode of Wife Swap.
The website went live in 2003 and grew from just a dozen or so items of clothing to over 500 items, and it was my full time career for over 21 years.  Then Covid hit.  No events=no sales.  I had to move, downsize, then move and downsize again.  Now my focus is on just the clothing lines that I have produced under the dresslikeapirate.com label, and have closed-out all resale accessories.  It will take probably a year or more to completely fill in all the colors and sizes to full stock, and supply chain issues have delayed incoming stock, so please be patient. Contact me here:  the contact page  if you have any questions.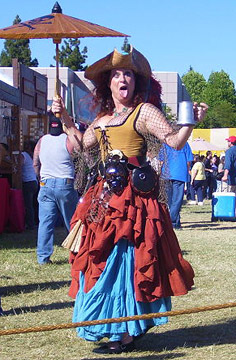 The difference between me and other sites is that I am a Pirate, I am a Rennie, I am a LARPer, I dance at Goth clubs, and I go to Cons,just like you do. I dress up for themed events all through the year, and I have a garb closet instead of a hall closet. I'm not doing this because I think this is the next big thing, I do it because this is who I am. I hope you can tell by the feeling you get browsing the site.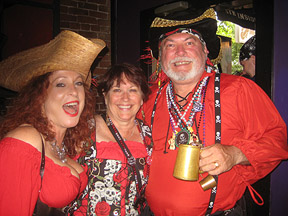 If you have any comments or questions, or suggestions or just want to say "ahoy" you can reach me at shayna@dresslikeapirate.com. It has been my pleasure to serve you for over 10 years, and hope to serve you for many more.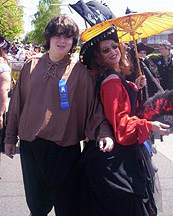 Faire winds and full sails!
Captain Machete Betty, aka Shayna Vest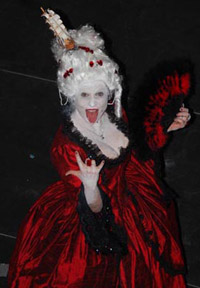 Click here for status updates from the Captain's personal Facebook Page. Or go here for the Dresslikeapirate.com Facebook Fan Page. Learn more on our Community page. The best way to trust a website is to know who runs it, don't you think?
Single mom, entrepreneur, goddess, pirate.


Facebook
Twitter
Shayna Vest is the owner of Dresslikeapirate.com based out of Portland, Oregon. Once an office manager for a technology firm, she began selling vintage re-enactment items online 10 years ago, and has since built dresslikeapirate.com into one of the world's most popular theatrical costuming, pirate, theme wedding and roleplay garb sites. Shayna sponsors numerous events throughout the year like Portland Pirate Festival, Backstage Artist Lounge, Sea Dog Nights and FaerieCon, as well as supporting many non-profit organizations like the Humane Society, CoDA, and NOLA Pyrate Week. You can find her most days in her live/work duplex with her son and 2 scurvy dogs. Shayna (Captain Machete Betty) is a member of the International Wenches Guild # 3858 Local #52 www.wench.org Member of the Pyrates Union #091_IBONP www.pyratesunion.org